Hi I'm Arnold Kloek
I'm a metal prog singer from the Netherlands.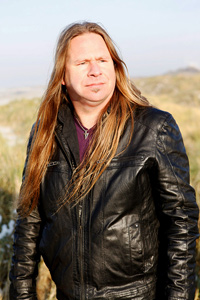 The early years
From childhood on I have been singing. It didn't matter what, as long as I liked the tune. But since your attention and interest are divided as child, it took a while before this became my life's purpose.
Around age 12 I've been looking much older than I was and could lie about my age. That helped me a great deal to obtain small jobs way before it was legal for me to work. From my salary I was able to buy a guitar and a guitar amp. Since than I haven't had the patience to practice every day, my skills haven't developed beyond making a whole lot of noise.
Some neighbors told me ones, that they really did not mind the noise they had confidence that I one day would master the instrument, so that they finally enjoy listening to great music
Changes
At age 14, a stupid motorcycle accident smashed one of my legs. I was already addicted to hard rock and metal, but I was a long, tall skateboard fanatic and totally into cross motors and hadn't have time for a band up till than.
The Missing Link
Soon after I recovered from the accident I started out playing bass guitar and singing in my first band. We called ourselves "The Missing Link". Since we didn't managed or better had the skills yet to play cover songs, we simply started writing our own songs. Our first rehearsal room was a garage box and we spend hours and hours writing and later on memorizing covers.
Times have been different and since we had no money to spare as teenager, we made most of our equipment ourself. An old Electric guitar was turned into a bass guitar with strings from a acoustic guitar. Those were thicker ;-)
Me and the guitar player (later he took over the bass) were classmates and learning all about electricity. We wanted to have the great distorted guitar sound like Boston and Van Halen, so we experimented with a lot of different old radio amps assembled. A nice side effect of our 'Frankenstein' experiments was a free fireworks during rehearsal.
We had a few life shows but soon went each our separate ways. " Those where the best days " to use Bryan Adams words.
Backstreet Runner & Afterdark
The next band I joint, was called "Backstreet Runner". Here I actually started to care about teqnique in singing rather than making only loud louder loudest noise with my vocal cords ;-).
We fell apart after some time and I co founded a band called Afterdark instead. With these guys my hobby felt more serious but with a lot and a lot of fun.
The rest of the bands have their own chapter on this page . Have a look at the time line on the right hand side.