After Dark
Progressive Rock Band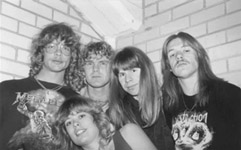 Band members
Tom Schoen - Drums
Esther Schoen - Righthand Guitar
Paul van Rijswijk - Lefthand Guitar
Charles Heijnen - Bassguitar
Arnold Kloek - Vocals
Somewhen around 1985, toghether with Esther and Tom Schoen we formed Afterdark. Charles Heijne joined shortly after we started to write some progressive speedmetal. Soon we understood that we needed a second guitar player. After playing some local shows, Paul van Rijswijk joined us.
We recorded a four song demo called "Fatal Morgana". This demo made it on the national radio show "Vara's Vuurwerk" as band of the week.
This was the start of getting a lot of gigs paired with a lot of fun. And we even made it on national television. We had the ghostbusters theme as intro which at that time we had a lot of fun. The gigs were explosive and high energy.when we started planning for the album recordings Tom and Esther thought they could not combine that with there studies and quit. And inwas so bumbed out from that we had great plans and all that I had to stop as well.
Fatal Morgana
Some Impressions